Concept
We imagined a "modern-vintage" road bicycle that combines the classic style of the famous Helyett Spéciale and the best of current technology. The Helyett 100 is a cyclosportif model designed for efficiency. Builded with Columbus Spirit steel tubes, the most prestigious of the Italian manufacturer, its frame provides a great reactivity to pedaling, an incomparable resistance over time and the comfort of absorption of shocks and vibrations of an emblematic alloy whose qualities are no longer to demonstrate.

Design
A classic and contemporary style alchemy, the Helyett 100 keeps the historic color with a metallic green liquid paint made in car painting garage and has a design that is purified with a modernized typographic logo, a sober stainless steel headbadge and a mention "centenary" at the seat tube. The Futura Caliper carbon fork from Columbus brings a touch of modernity to a steel frame with a traditional look with polished and perfectly smooth welds. The passage of cables is internal and optimized against noise. Autre particularité, the headset is integrated in a conical bushing that keeps fluidity between the elements. Mavic wheels with discreet marking add to the elegance of the set. The Helyett 100 is the worthy heir to the most beautiful models of the 1950s.
Configuration
For the configuration, we chose the main components with famous brands historically associated with the Helyett during their history: Mavic wheels and Campagnolo Record groupset, with V-brakes skates to stay in the classic style. The Helyett 100 gives at the end a weight slightly less than 8.5 kg.

Limited edition
Manufactured within the limit of 19 units only, with reference to the year of the creation of the brand, each Helyett 100 is numbered from 1 to 19 with a hitting badge fixed under the bottom bracket.
Manufactured in France
We decided to work in collaboration with a French workshop specialized in handmade and customized steel bicycles which embodies today the tradition of cycle craftsmanship in France. A special attention will be focused on each frame throughout its manufacturing process.
Data sheet
Sizes : 50 | 52 | 54 | 56 | 58 cm
Front triangle : Columbus Spirit
Rear triangle : Columbus Spirit
Fork : Columbus Futura Caliper
Headset : Chris King Inset 7
Stem : Chris King Inset 7
Handlebar : Deda RHM02
Tape : Lizard Skin
Groupset : Campagnolo Record 12V
Saddle : Fabric ALM
Seatpost : Deda RSX02
Wheels : Mavic Cosmic Pro Carbon UST
Tires : Mavic tubeless
V-Brakes : Mavic
Pedals : Look Kéo Blade
Bottle cages : Campagnolo Super Record
Liquid paint : Audi® Emerald Green
Features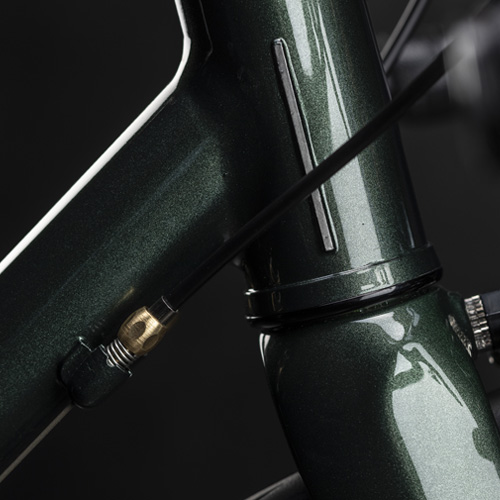 Special features at the front: the Chris King headset integrated in a conical piece allows to preserve the visual coherence of the design by not breaking the junction between the frame and the fork and the glued metallic thin bars which make it possible to protect the paint from the friction of cables.